The advancement of technology has brought bespoke designs that enhance residential and corporate spaces. However, top-rated interior designers use design software to make statement pieces. Unlike traditional conference rooms with tables and chairs, business people and firms now demand conference rooms with luxurious appeal. These are some features that you should expect from modern corporate meeting room designs.
Conceptualise Your Design with CAD Software
After outlining the floor plans for your conference room, the next phase is to use design software to create multiple styles of prototypes. Before using CAD (Computer-aided design) software tools, visualise the room's shape and cross-sections. Then, use the software to create a 3D modelling of your conference room like modern home designs. A 3D model will be helpful because it can display detailed construction drawings or products of an abstract luxurious conference room. Don't forget that the goal is to make a luxurious conference room with elegant interior design ideas. However, you might need to hire the best office interior design contractor for this purpose.
Create a Minimalistic Approach
Most people say; 'the more, the merrier,' but an exquisitely-designed conference room should have a modern minimalistic design. It's the gadgets in the conference room that makes the difference. Instead of choosing heavy furniture, get stylish armchairs that ease comfort. The furniture could come in a range of colours, but what is key is their functionality. Adjustable chairs help to increase conference rooms' space and enhance mobility. Also, a spacious conference room with cross-ventilation often has an airy atmosphere. Generally, a refreshing ambience gives your audience the convenience of spending more time in your conference room.
Use Sufficient Lighting
Lighting fixtures are essential aspects of designing a luxurious conference room. You can install dimmers, ceiling lights and energy-efficient bulbs that have low heat emission in the conference room. Don't forget that conference rooms are formal spaces that require natural lights, and recess light fixtures. Instead of installing fancy lights that might distract your audience, install fixtures that offer sufficient lighting in every part of the conference room.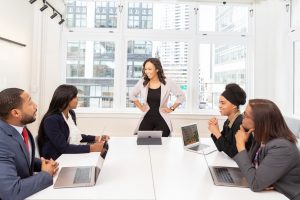 Enjoy Wireless Technology
Innovation is a high-end feature of luxurious conference rooms, and you can achieve a lot with it. The meeting room is an open space that highlights the bold nature designs. Any glamorous settings tend to distract your clients from the presentation. Unlike old LAN (Local Area Network) cables for telephones, and desktop computers; wireless connectivity makes the conference room tidy. Also, a luxurious conference room must support digitalisation. You can make wireless connections of whiteboards, computers, and projectors for any corporate meeting. It's one of the gains of having the 21st century, luxurious conference room.
Round Tables Are Better Than Rectangular Designs
Unlike old rectangular tables, round tables occupy the centre of your meeting room. By positioning the table at the centre, you have made a strategic arrangement with the largest furniture in your corporate space. Generally, it's common to have rectangular table-top designs in conference rooms instead of round tables. However, modern conference rooms feature a variety of rounded tables to make conversations effective. It's important to make eye contacts with clients during verbal engagements and dialogues. Also, round tables offer a better view of your audience during presentations. These round tables create space within the meeting room that allows easy movement. Round tables designed with wire works are recommended for a sturdy and promising utility.
Good Air Quality
A stuffy conference room improves exhaustion because of poor ventilation. Install temperature control gadgets that enhance a warm and welcoming ambience. Most modern air-conditioning units have air purifiers and are must-haves for conference spaces. Also, ensure to install functional HVAC systems and sufficient vents on the ceiling.