So you have this amazing idea for an exhibition – now what?
Well, I've done it many times and I've written down my best tips below.
The first thing you need to do is request the artists you want. Maybe go to their studio one day and see what they are working on right now. Personally, I really love to include indigenous art when exhibiting in Australia. When an artist isn't local, attempt to arrange a FaceTime or Skype call. Try to keep your first email smooth and short. Do not spend too long describing every component of what functions you believe would be ideal for the display, you can discuss all that later!
Where can you hold an art exhibition?
You can always send your ideas to galleries, however, make sure you do your research! Some don't accept unsolicited proposals in any way. For the ones that do accept suggestions, scroll through their website or work and see whether your exhibition would be a good fit. Observe their submission instructions and make sure you follow them –not doing this could cause the supervisors to dismiss your enquiry super fast. When they don't provide specifications, then you are going to want to send a glossy PDF using a paragraph or two about your show idea, why you think that it will be suitable for this particular gallery, then the list of artists you want to showcase, and a few pictures of works you'd love to show.
If you are struggling to find inspiration for your art exhibition, a good tip is to look at how interior stylists choose to work with their space. Have a browse online to see if you can find any stylist that are using the type of style that you like. For example, if you love the coastal look – have a look at Pinterest or Google and find a few good designers that have that coastal interior design feel that you're after.
As soon as you have a place confirmed, it is time to hammer the finer details. Finalise the series dates, the installation program, and have a meeting together with your artists and the gallery owners. Discuss all the pricing and purchase arrangements since, well, you don't know how to start! While on that subject, you will also need to sketch out a preliminary budget to the series, even if you don't have any cash to invest. You are going to need to splurge on a few things, such as beer and photographers, which we will get to later, so make sure you account for this! Additionally, speak with your artists about transport expenses along with a return time period if appropriate. Galleries generally pay transport one way and you might want to budget for this too.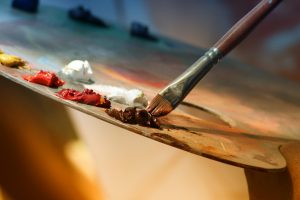 Next, you're going to want to work on the media release.  There are a whole lot of unique approaches for writing a press release however, the crucial thing is to keep it persuasive. It'll function as an introduction to your thoughts and the series in general, while also ideally enticing media to write about it, and individuals to come and view it.
Last, promote the series! Send out the media materials to magazines, to blogs, as well as your loved ones, members and friends. Boost the series on social media. Inform people about it once you see them in an opening, poetry reading, or in line at your local pizza place. You have been working extremely hard with this art exhibition, and you ought to be certain people come to see it.
Installing the display and artwork
The time has arrived! Your display is fast approaching, and it is time to design the space. Before pulling the paint rollers, you're going to want to generate a thorough strategy. Determine how much time it is going to take to prep the distance, to set up each job, and if you are going to be in a position to achieve that. If you don't have the experience or knowledge it takes, you can look at using museum display cabinets or other art services to improve the look.
Once you have established a strategy, head into the area and make sure it is all ready to go. Scan the walls to make sure all of the holes have been patched up after previous exhibitions and perhaps add an extra coat of paint to the walls. After that, bring all of the furniture and artwork to the gallery and then put them out to set up. Have a look around and assess how the artwork feels in the area. Use this opportunity to make any last minute decisions concerning the display placement before they are connected to the wall (or floor! ).
The opening of your art exhibition
Alright, the doors are all open. It's time to relax! Grab a beverage! Utilize the opening to interact, have fun, and celebrate the hard work you have done for the last couple of weeks. It is always great to stop and talk with old buddies, but do not stay too near them the whole night. This is the best time to go around the area and attempt to satisfy new visitors. Who knows, perhaps you'll meet somebody who runs an art space and needs someone to curate their next exhibition.
Before the end of the night, remember to think of a great after-party place! A bar or a cool place for some late night snacks works great.
Good luck!